Increase the efficiency of your format change Machine adjustment at the press of a button
Minimised set-up times at Krones AG
Changing packaging trends and small batch sizes require quick machine adaptations to different formats. To convert lines even more efficiently Krones AG relies on the fully automatic SeGMo system:
less manual change-over effort
shorter change-over times
smaller batches and higher variety of packaging can be produced efficiently
reproducibility of the setup
See the enormous time saving in the short film!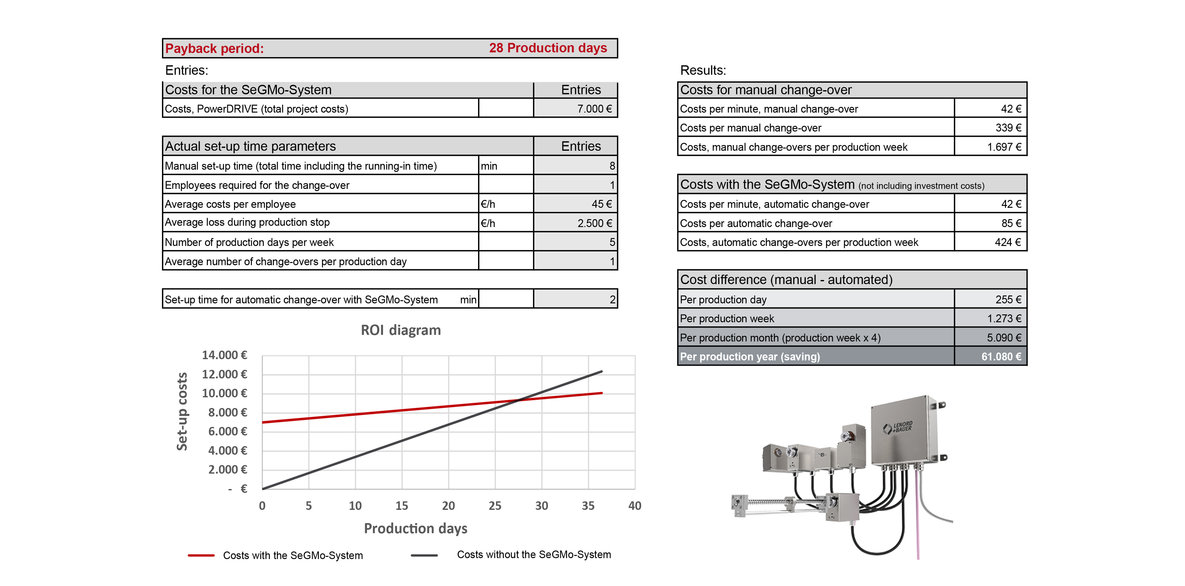 Profitability becomes transparent
Reduce set-up times and benefit from massive potenial savings – not only in new projects, but also in the event of modernisation. Our return-on-investment calculator shows you concretely how quickly automating your feed axes pays off.
When is your break-even point reached? Take the test!
Get your ROI calculated now!
Efficient adjustment of infeed axes
SeGMo stands for:
shorter set-up times
exact reproducibility
high flexibility in your production plant
simple installation
intelligent condition monitoring
Our fully UL-certified positioning system consists of three individual elements that can be flexibly combined as required: The SeGMo actuators, the decentralised SeGMo-Box control unit for flexible fieldbus integration and the associated hybrid cable solution suitable for drag chains, including connectors.
The positioning drives internally monitor data such as motor current, speed and temperature. In the event of a fault, they provide messages and alarms. They can track the operating behaviour of the machine and initiate countermeasures if necessary. The SeGMo system can be easily integrated into your system thanks to available function blocks for all common control systems. What are you waiting for?
Let us advise you on the optimum use of the SeGMo system!
Ask us for a demonstration