Fast, precise and reproducible Why it pays off to automate your plant
The key to greater system efficiency
You want to increase the productivity of your plant, ensure process reliability and reduce sources of error at the same time? Read our white paper that offers an essential overview of the current state of the art when it comes to semi- and fully automated format adjustment.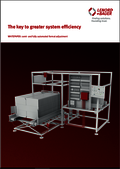 Find out:
What degree of automation is suitable for your application
What solutions there are
How quickly the modernisation of your plant will pay off
Learn more about the specific advantages of Lenord+Bauer products and how the i³SAAC product concept meets the requirements of the future.
The characteristics embodied by "i³" are integrated, intelligent and interactive. Real-life examples illustrate how these features can be turned into measurable added value.
Go to the download here*
*Please register to download the white paper. It's important for us to understand who will benefit from our content and whether our topics are relevant for you. That's why we need your details. Thank you!
We will also be happy to assist you personally if you would like to find out more about solutions for semi- and fully format adjustment.
Arrange a virtual appointment